What is hot?
Covid-19 has helped shoppers fall back in love with classic cookie barrel products. The major bestsellers continue to be a part of the daily routine of the country and should be the number one priority of every retailer. In fact, last year they accounted for 96% of the total category growth, while new variations of classic cookies, such as the New Flavor Innovation, paved the way for the NPD.
What is not?
Recovering the huge 40% growth seen in home meals over the past year has been a challenge for regular savory crackers.
The increase in meals at home in 2020 resulted in an increase of 163 million breakfasts with cookies, which was due to subcategories such as chocolate cookie bars and savory crackers. However, with consumers re-venturing, including returning to the office, growth within these subcategories is slowing down.
Retailers should turn to flavored crackers instead. This sub-category is up 4.7% and this increase in demand for delicious snackable crackers has helped support the growth in total crackers.
And after?
There are two opposing trends ahead: the resurgence of healthier cookies and the continued emphasis on indulgence.
For healthier cookies, take-out formats are a big part of this industry, and as out-of-home recovery gains momentum, so does the need for quick-to-go products. This, coupled with a renewed national focus on health, means we expect healthier cookies to return to growth, and retailers should relax their lines to meet evolving health needs.
As for indulgence, we expect a bumper Christmas this year as buyers revel in the disappointment of foreclosure measures last year. With more people determined to make up for lost opportunities to celebrate, we expect seasonal cookies to grow 10-12% this year.
What's new? Three trendy cake and cookie products hit the shelves
Ooh how Jammie
Rsp: 85p / 200g
A variation of not one but two classic cookies, created by mixing the two. Burton's has combined its Maryland and Jammie Dodgers brands for a new line of cookies. The cookies mix raspberry paste with Maryland chocolate chips and raspberry chunks. The new SKU is part of his new "Kookie Crew" range, which he has rolled out over the past few months with the aim of bringing "new combinations of imaginative flavors and textures to the cookie function".
Kinder Cards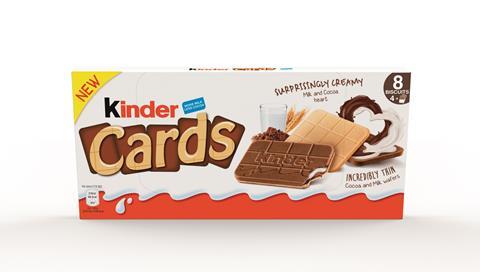 Rsp: 55p-£ 1.80 / 26g-102g
With the return of on-the-go consumption, Ferrero has extended its Kinder brand to cookies with a new line of Cards wafers. Snacks include two thin wafers and a creamy topping, designed to appeal to children and feature prominently in glove boxes, purses and kitchen cabinets as' the perfect treat to enjoy with the family during activities of the afternoon ".
Jaffa Jonuts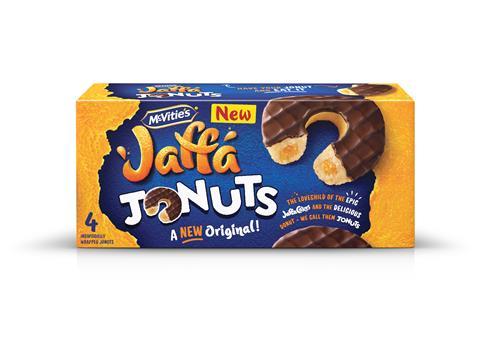 Rsp: 60p-£ 1.99 / 43g-4x43g
Just when we thought we had seen it all. The age-old argument about the place of Jaffa cakes in the cake or cookie aisle has become more complicated. Are these new products part of the donuts? This is not the case, says Pladis. Although he hopes to shake up the category, the Jaffa Jonuts are still present in the cookie aisle. The Jonuts combine a Jaffa Cake sponge cake, orange and dark chocolate with a donut shape.